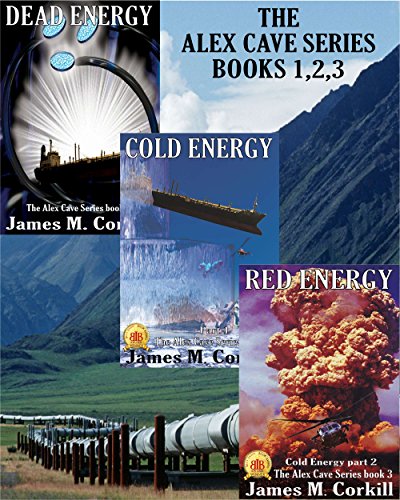 The Alex Cave Series : James M. Corkill
The Alex Cave Series – Books 1,2,3
Oil supplies begin to mysteriously vanish without a trace and society starts to crumble, and the only clue is a dollar size crystal found in the hold of an empty oil tanker. An ancient alien artifact causes devastating earthquakes and begins freezing the oceans. The Yellowstone Super Volcano is about to erupt! The action is non-stop these three science fiction techno-thrillers by this award winning author.
It all started when his wife was murdered during a mission, and Alex Cave quit the CIA for a less stressful life as a geophysics instructor at a small college town in Montana. At least, that was his plan.
DEAD ENERGY. While on vacation sailing the waters of Puget Sound, Alex sees a brilliant flash of light from an oil tanker and changes course to help.
He discovers there was no explosion, no one on board, and the oil has mysteriously vanished without a trace. The bodies of the missing crew are found a hundred miles away in the snow on Mount Baker, but there are no footprints leading in or out of the area. Alex's only clue is the blue crystal, which under a high-powered microscope, appears to be alive.
The shortage of fuel causes mass panic, and Harold Wooley, a sniveling coward with a domineering wife, thinks he can save his family from a world-gone-mad by joining a radical civilian army, but as the group undergoes a drastic change in command, things get out of control when their new leader kills without compunction.
Harold must dig deep inside his soul if he is to discover the courage to save his family from their living nightmare.
COLD ENERGY. Another race of humans once lived here on earth, leaving behind powerful technology that could cause our extinction!
Sudden freezing temperatures cause weather patterns to change for the worse and threaten a catastrophe that will affect the entire world. Alex leads a small band of volunteers on the high-tech research vessel named the Mystic in a desperate attempt to remedy the situation before civilization faces ecological disaster, but members of the group have their own agenda, seeking wealth and fame through murder and seduction.
Captain John Dieter's greed blinds him to the suffering caused by the disastrous weather conditions, and he enlists the help of modern day pirates to capture the Mystic and take it to an unknown island in the Bering Sea, the supposed location of a vast horde of stolen treasure.
Alex begins a desperate race to find the Mystic, the only ship capable of finding a solution. If he fails, life as we know it will be gone forever.
RED ENERGY. The Yellowstone Super Volcano is about to erupt, but going back in time to stop it won't work if Alex can't remember what to do,
Alex discovers a piece of alien technology on one of the Aleutian Islands, but before he can take it to a safe location, it is stolen and taken to COBRA, a private top-secret research facility south of Yellowstone National Park.
The scientists have no idea what they're dealing with, and when Alex's loved ones and everyone earth are put in grave danger, he begins a desperate race to save them. If he fails, every living thing on the planet will die a slow and painful death.
How does Alex save civilization from annihilation? Find out by grabbing your copy now!
Book Links
Website
Facebook
Twitter
Goodreads
Amazon Author Page
On Amazon
More Great Reads: