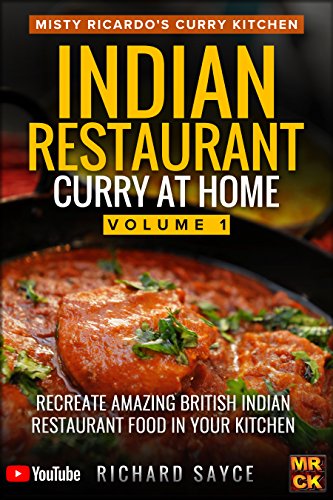 Indian Restaurant Curry at Home : Richard Sayce
Indian Restaurant Curry at Home Volume 1
Learn how to recreate exceptional British Indian restaurant curries, starters, and accompaniments at home.
The 148 page high-quality paperback book from Misty Ricardo's Curry Kitchen is packed full of recipes, tutorials, photos, and all the information you need to cook superb curries and other Indian restaurant dishes.
Based on the best selling Kindle eBook with hundreds of happy customers, this publication is a must have companion in the kitchen.
Richard Sayce, the man behind Misty Ricardo's Curry Kitchen has published over a hundred video recipe tutorials on YouTube, and has a huge following on Facebook and other social media sites. QR codes are included alongside each of the book's recipes for quick access by scanning with a smartphone.
Book Links
Facebook
Youtube
Buy the Paperback
On Amazon UK (Kindle)
On Amazon (Kindle)
More Great Reads: