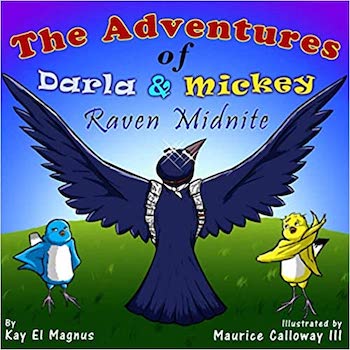 The Adventures of Darla and Mickey: Raven Midnite : Kay El Magnus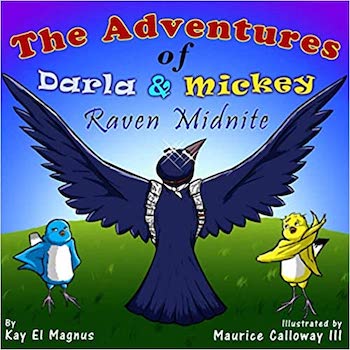 Volume 2 of the exciting and highly entertaining "Darla and Mickey" series takes place shortly after the Parakeet siblings manage to stop Archie the Crow and his two pesky pals from trashing Old Man Haggerty's famous Bird Fountain.
Anxious to get out of the birdcage and spread her wings once again, Darla complains to Mickey about getting free.
All of a sudden, a couple of animals from the area came to congratulate them for the wonderful job they've done protecting the neighborhood of Olive Tree, and as a token of their appreciation, they brought them a shiny new key to open the birdcage door.
Needless to say, Darla rejoices!
In the midst of showing her gratitude, it seems all the animals of Olive Tree became very excited and zipped over to greet a surprise visitor who just arrived in town.
Curious about the popular stranger, Darla takes Mickey along (against his better wishes) to check this person out.
Finally arriving at the big oak tree near the town's library, they spot a large group of animals gathered at its base.
Sifting through the overjoyed crowd, they make their way to the center and laid eyes upon the majestic visitor whom everyone calls, Raven Midnite.
Book Links
Website
Facebook
Twitter
Instagram
Amazon Author Page
On Amazon
More Great Reads: