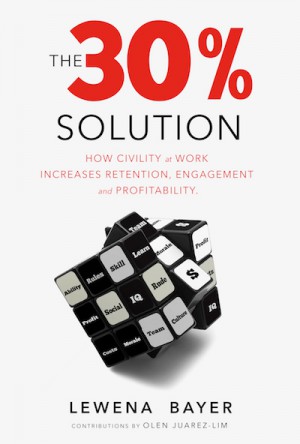 The 30% Solution : Lewena Bayer
The 30% Solution
What would you do with 30% more revenue? Hard to imagine a business owner who wouldn't jump at more profit, right? And what about more engagement? And more retention?
In this ground-breaking, practical and interesting book, Lew Bayer the leading expert on civility in the workplace explains how research shows that organizations who actively support civil communications and a culture of civility see – measurable increases in revenue, retention, and engagement. And these are just a few of the favorable outcomes resulting from civility in the workplace.
Many people understand civility to mean manners and so they dismiss it as something soft or nice to have. The fact is, there are four specific, tangible, competencies that organizations can build to help their teams exhibit civility and build a better workplace. The 30% Solution offers a toolkit for business owners, workplace trainers, business consultants, and human resource professionals. Contact Contact Tracy for interviews or to book presentations or training.
More Great Reads: