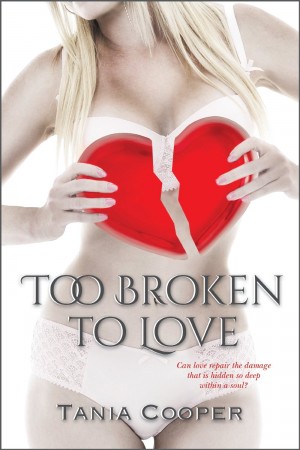 Too Broken To Love : Tania Cooper
Too Broken To Love
Tragedy sometimes defines our lives, taking away our choice to move forward.
But can love repair the damage that is hidden so deep within our soul?
Follow the story of Jess's fight to escape the deep depression she has been drowning in for years since the death of her mother as she strives to reach the normal life she so desperately yearns for and what happens on the night she finally reaches rock bottom, only to be saved by the man that helped to put her there.
Wade Hunter, struggling with the pressures in his own life, knows he needs to make some drastic changes to his workaholic ways so he can finally have the time to ask out the shy beautiful waitress that he has been secretly pining over for a year. But when one night changes both their paths, revealing Jess's true struggles, Wade finally sees the darkness behind this sweet angels shy smile.
Despite the hardships he knows they will face together, Wade becomes determined to pull Jess out of the dark fog she lives in and show her how wonderful life can truly be, if only she would accept the love he feels so passionately for her. 
Book Links
Facebook
Twitter
Goodreads
Amazon Author Page
On Amazon
More Great Reads: