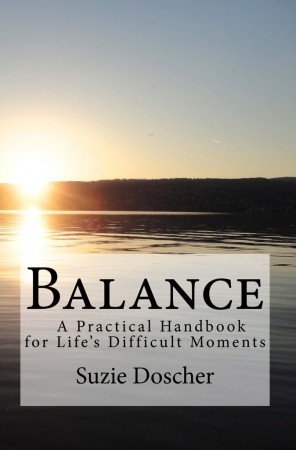 Balance – A Practical Handbook for Life's Difficult Moments
BALANCE – A Practical Handbook for Life's Difficult Moments addresses the moments when you wish you had someone to talk to who would give you support.
The simplicity of the book is a key benefit to the reader, giving him an opportunity to cut through words to find a solution quickly.
No need to read BALANCE from cover to cover.
Hold the problem you are facing in your mind, open the book to read the titles, and choose the one relating to how you are feeling.  Consult it as a means for a self-coaching session.
Dip into the part or parts that are relevant in the moment.
A sample of the exercises:
How to recognize your choices in difficult moments.
What is 'Personal Power'.
Steps to support living in the 'Now'.
How to deal with 'Energy Vampires', or 'Control Freaks' (Micro Managers)
How to respond when feeling verbally attacked.
Recognizing that asking for help (at home or work) is NOT a sign of weakness.
How to unwind from work.
How to say 'No'.
How to say 'Yes'.
Clear up your life when it feels like a mess.
And many more
There are numerous fantastic books guiding people to grow, learn, gain courage, confidence and personal power. Yet what you hear time and time again is: "The books have taught me what is possible – but not how to do it". BALANCE offers you clear, uncluttered guidance for dealing with issues popping up in everyday life at any time of day.
Book Links
Website
Facebook
Linkedin
Pinterest
Amazon Author Page
On Amazon
More Great Reads: