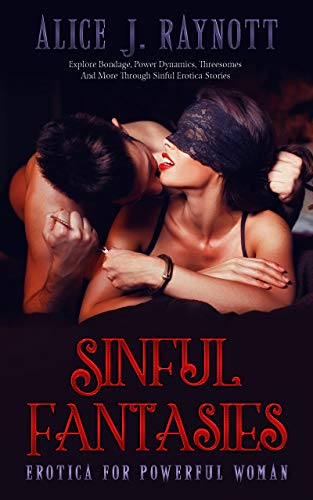 Sinful Fantasies : Alice J. Raynott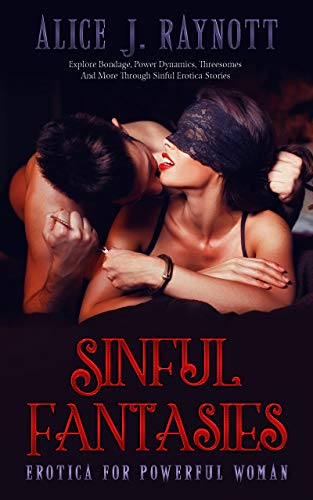 Escape into a world of your fantasies with sensual erotica and playful BDSM stories.
How does a typical visit to the tailor turn into an exploration of bondage and risque sex?
Will things heat up in the kitchen when an up-and-coming chef meets a food blogger who's into more than just a good meal?
When a cruise ship waitress catches the attention of both the captain and a wealthy businesswoman, will she get caught in the tide or willingly be pulled into the adventure of a lifetime?
Can a preacher's wife revive her marriage's sex life by inviting an intriguing stranger into her and her husband's home (and bed)?
These and more delightfully sinful erotica stories lie hidden in this book, waiting to be discovered.
You may not get to indulge in your fantasies in everyday life, but you can let yourself explore to your heart's content along with Sian, Hannah, Lenia, and several other everyday women who are presented with unique opportunities.
Have you always wanted to try a threesome? So have Hannah and her husband—they just don't know it yet.
Do you enjoy playing with power dynamics? Miana's romp with a younger man will satisfy your craving.
Are you afraid to explore your interest in age play? Lenia and her coworker aren't.
In addition to these sexy stories, you'll also read about:
Breathtaking bondage that takes touch and texture to new levels
How bringing food into the experience can enhance sexual pleasure
What happens when a powerful couple takes a newbie under their wing
A delightfully demure woman who discovers her hidden desires
Forays into dominance and submission, and how gratifying each can be
And so much more!
An entire world of fantasy awaits!
You have a front-row seat to the erotica you've always wanted.
All you have to do is give yourself permission to let go and let the stories unfold.
Book Links
Amazon Author Page
On Amazon
More Great Reads: