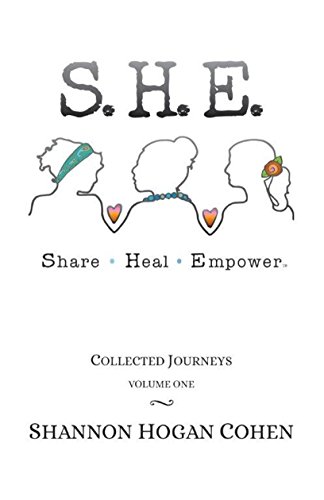 S.H.E. Share Heal Empower : Shannon Hogan Cohen
S.H.E. Share Heal Empower
The S.H.E. Share Heal Empower book contains stories about change and personal perseverance from hidden heroines tucked in different pockets of the globe.
Each chapter represents one woman with themes ranging from a teenage YouTube vlogger who struggled with an eating disorder, to a ninety year old educator who survived the Holocaust with her mother.
In addition, to the twenty-four everyday women warriors there are twenty-four featured artists of varying calibers who were paired with the women based on similar storylines. Their artwork introduces and illustrates one courageous woman who has agreed to share her story of personal victory by capturing each woman's unique spirit and story in their design.
This book is not about offering our advice to readers, but rather our vulnerability. Stories help heal. The fifty-plus women on this journey are looking to create a heartfelt movement not only within ourselves but with each other – recognizing our strengths and struggles go together.
Book Links
Website
Facebook
Twitter
Instagram
Amazon Author Page
On Amazon
More Great Reads: