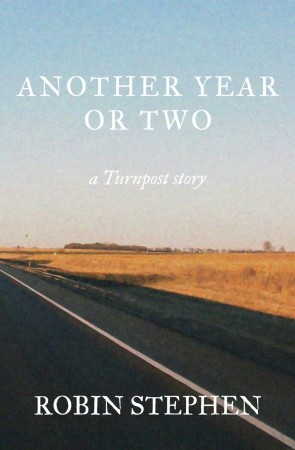 Another Year or Two : Robin Stephen
Another Year or Two
"You can't put it down!"
"…a fantastically true to life story that readers both young and old will enjoy."
"I found myself wrapped up in their small town experience."
"A delightful and unique way to tell a story!"
"The author masters a range of voices and tones (complete with orthographic tics) through a series of blog posts "by" the characters realistic enough to create a relatable world… Another Year or Two is a quiet pleasure to read, one all too quickly devoured."
[reviews from amazon.com]
Turnpost is a small town in rural South Dakota. But that doesn't mean there's nothing going on.
Another Year or Two follows five characters and their five overlapping storylines. This is a book about the kid that used to live next door, the cute guy in English class, the trainer at the local barn. This is a book that gives you five glimpses into the world of Turnpost.
Each character writes in their own voice, from their own (sometimes unreliable) perspective, with their observations centered around their own concerns.
Lara has a (huge) crush on Chad.
Kyle is an insomniac.
Wendy has secret.
Casey misses his daughters.
Madison is trying to put her past behind her.
A story about unexpected connections and the difficulty of change, Another Year or Two is a charming, multilayered glimpse into the thoughts of people who have no idea who is reading what they post.
Book Links
Website
Facebook
Twitter
Goodreads
Amazon Author Page
On Amazon
More Great Reads: