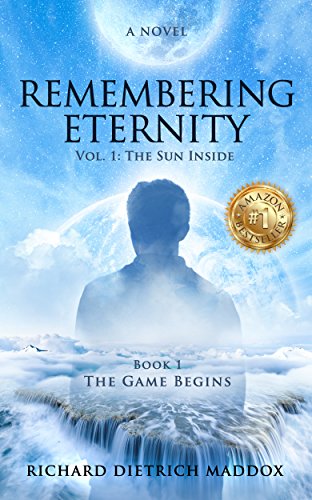 Remembering Eternity : Richard Dietrich Maddox

Remembering Eternity
"Remembering Eternity" is unlike any novel you have ever read; it is a literary, intellectual, and spiritual masterpiece. The book carries its reader on a brilliantly scripted tour of spiritual evolution, lifting her to the stars at one moment and crashing her into oceanic depths at another. In one passage the novel unveils a remarkable theory of artistic creation; in another, it explains the mechanism for music's power to affect the human soul; in a third, it dissects the momentary perceptual machinery of human beings. Structured in units called "time zones," the book reveals the secrets to attaining a life burgeoning with unimaginable rapture.
An epic trilogy, "Remembering Eternity" paints skies, mountains, oceans, and sunrises in colors that dazzle the reader's inner eye. The trilogy spans the tumultuous period of America from the 1960s through the 1980s. Its scenes are memorable: ecstatic, naked, moonlit dances and thrilling, evasive chases across the rooftops of Brooklyn tenements, and they are replete with unforgettable characters: a bigoted pickup-truck driver armed with a revolver, a delusional prophet ready to drive his car across the Intracoastal Canal, real-life Prince Charmings and Helens of Troy. The novel ranges from the sandy beaches of California to the magic-mountain empyrean of the Swiss Alps; its action is set in cracker-box suburban homes, elite university campuses, and palatial European hotels. The books' language is rich and evocative: readers literally see scenes coming to life in their imaginations.
But, above all else, "Remembering Eternity" charts a path to human enlightenment, to permanent peace and happiness. It succeeds in doing so by weaving strands of spiritual gold through a rollicking, sprawling tale of adventure.
More Great Reads: