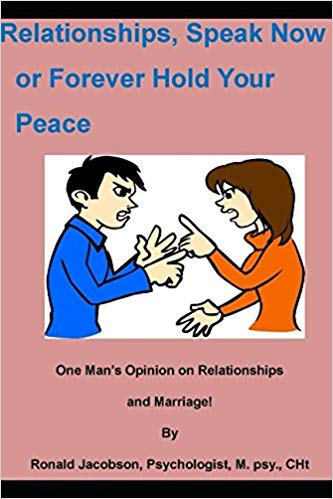 Relationships, Speak now or Forever Hold Your Peace : Ronald Jacobson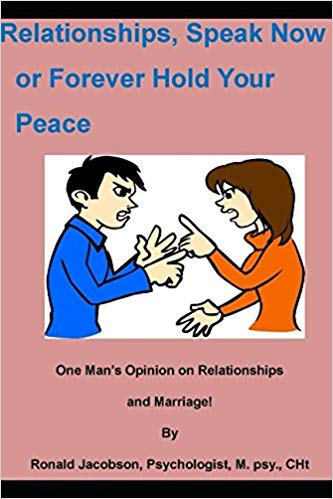 One Man's Opinion on Relationships and Mariage!
There is no perfect marriage. All marriages have fights and disagreements. The average marriage has less than a 50% survival rate.
As much as you might love one another, you may not be compatible in ways you never thought about. For instance, you may think you have the same views on raising children. Naturally, you will both want good friends, doing well in school, respect, love, and all the normal things that are involved in raising a child.
The how is where the issues come in. How do you react when the child acts up, do you both believe in time-outs, punishing, even hitting? How long is the punishment or time out? The way you were both raised has lots to do with how you handle the situation. Since you might have both been raised to do the same things, how you were raised might be completely different. If your child suffers from an illness like depression, how will you handle that? This type of illness can put a great deal of pressure on a relationship.
A relationship will go through many issues over the course of a lifetime, many things you have yet to contemplate, things nobody has ever told you. In my book, I try to cover some of these issues to better prepare you for what is ahead.
Part of the proceeds will be donated to the American Diabetes Association
About Ronald Jacobson
Ronald Jacobson was born in Brooklyn, New York on September 1st, 1958 to Jewish parents. Ronald was the youngest of three brothers. In 1971 the family moved to Miami, Florida where Ronald graduated from Florida International University with a degree in Psychology. He later went on to earn his Masters in Psychology as well.
In 1992 Ron married and has since had two daughters ages 24 and 20. This is where Ronald received most of his experience for this book. Between, his education in Psychology, raising his own family, and his observation of other relationships around him, Ron has written a very honest description of the pros and cons in most relationships. For instance, one thing Ron learned early on is if you earn any brownie points in your relationship, use them quickly, they come with an expiration date, even though the date is not written anywhere.
Book Links
Amazon Author Page
On Amazon
More Great Reads: