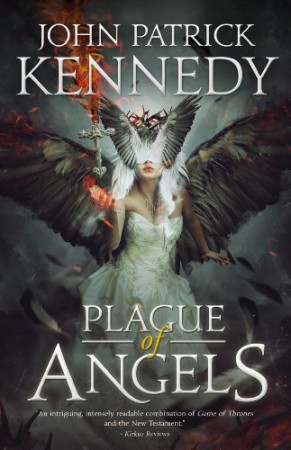 Plague of Angels : John Patrick Kennedy
Plague of Angels
She's the Queen of Hell. He's the Son of God. They'll end humanity… together.
Nyx is the ruler of the banished Angels. When her flock returns home, she's stuck on Earth with none other than the Son of God.
Surprisingly, God's son tells her he was tricked into sacrificing himself for a cause he doesn't believe in – mankind's redemption. As his mortal body dies, the Son of God offers the Queen of Hell a paradise on Earth if she completes a single mission: helping him obliterate humanity.
Nyx launches a thousand-year campaign of violence, sex, and betrayal to force God's people to worship her instead. From the back streets of Jerusalem to the Pope's bedchamber, Nyx and her companions work to destroy the worshippers of God.
What Nyx doesn't realize is that her arrangement with God's son isn't as simple as it seems. The Son of God has plans that nobody will see coming…
Plague of Angels is the first book in The Descended saga, a series of dark fantasy novels that provide a twist on an old story. If you like fantasy fused with religion, thought-provoking plots, and graphic violence, then you'll love John Patrick Kennedy's tale of the underworld.
Book Links
Website
Facebook
Twitter
Amazon Author Page
On Amazon
More Great Reads: