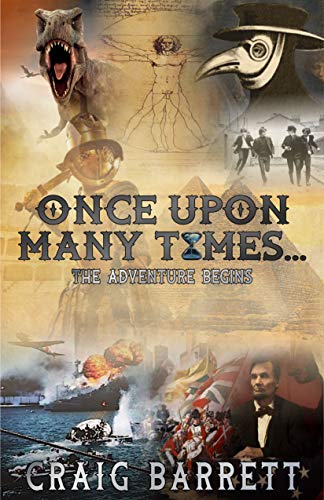 Once Upon Many Times… : Craig Barrett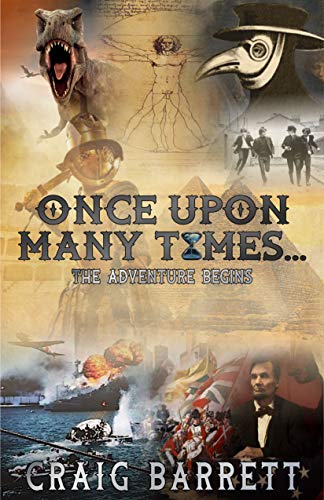 When Dr. Nathan Hawke broke the laws of Time, Time took it personally.
What if Time was alive?
Lose yourself in the pages of one of the most ambitious and human time travel stories ever told. An epic adventure the size and scope of legendary sagas such as The Lord of the Rings and Star Wars, Once Upon Many Times… turns the usual tropes of time travel on their head with its fresh take and unique storyline. All the while enveloping you into a vast chronicle that feeds the imagination and spans the centuries. Filled with mystery and suspense, Once Upon Many Times… will keep you guessing until the end in a monumental story where everything is connected and nothing is what it seems. A deep, rich and human adventure where every scene and chapter has purpose. What may seem unimportant or irrelevant in one episode of the series can easily turn into the cornerstone of another.
Peppered with pop-culture Easter eggs and packed with action, adventure, intrigue, drama, romance, humor and more, Once Upon Many Times… crosses all genres to bring you a fulfilling and balanced story that will keep you reading for hours and is just plain fun. And while the series does have its share of action, the story is one driven more by the plot and characters. Many mysteries will be found along the way and many questions raised, with all answers revealed by the series end. Including the Da Vinci code-like puzzle hidden behind the extensive, scene-enhancing soundtrack scattered throughout the story. With many unpredictable plotlines converging into one, by the time this massive anthology reaches its amazing conclusion, you will discover it to be much more than just another run-of-the-mill yarn about time travel.
The year is 2033. After a humiliating fall from grace, world-renowned Quantum Physicist, Nathan Hawke, finds himself banished from the world of higher academia and the scientific community. His name disgraced and his theories mocked by his peers, he is relegated to teaching a high school physics class by day and binge-watching '80s TV shows with his cat at night. Until the unexpected happens and he is approached by a mysterious donor offering to fully fund Hawke's unique time travel theory involving the appearances of ghosts.
Setting aside the many suspicions about his mysterious benefactors and their motives, Nathan accepts the offer as he knows it may be his best, and only, chance to see his lifelong dream of traveling through time brought to fruition. Only, once successful, things do not go as planned and Dr. Hawke finds himself a prisoner of Time itself. Unable to find his way home and unexpectedly caught up in the eternal battle between good and evil that transcends the ages, Nathan soon finds that staying out of history's way is not as easy as he thought. Bounced from one era to the next and one history-shaping dilemma to the next it will be in his reluctant journey across the temporal plains that Dr. Nathan Hawke will discover there is far more to the existence of Time than he ever imagined.
Book Links
Facebook
Twitter
Amazon Author Page
On Amazon
More Great Reads: