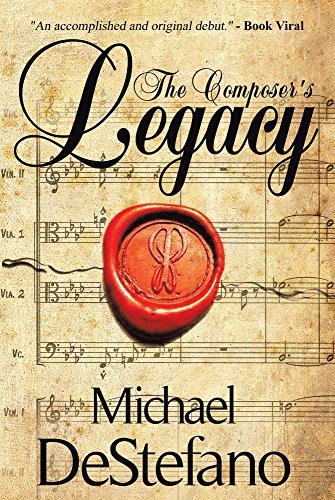 The Composer's Legacy : Michael DeStefano

The Composer's Legacy
Dr. David C. Whealy enjoyed the predictability of his academic life: teaching, performing, and conducting music. And his greatest joy was sharing the wonder of music with his talented students.
But an unexpected letter sealed in wax and stamped with a lopsided butterfly changed all that.
The celebrated California music professor is drawn to the opposite side of the country to investigate his unusual inheritance. As David explores the secrets of his mysterious benefactor, James Burton West, he finds more than just a remodeled home on the Delaware coast.
Through the journals and correspondence West leaves behind, David embarks on a journey of discovery that takes him deeper into the world of an intensely private and humble man who went through the last years of his life alone – and off the grid.
Also waiting for David to discover is the promised treasure trove of original and unpublished autograph scores, the quality and quantity of which would rival that of the great composers.
West knew precious little about his estate that had been in continuous family hands since 1724. He knew nothing about his enigmatic ancestor, a Thomas of "historic import," nor the origins of that ancient iron key – a key that held a secret even James Burton West remained ignorant of to his death.
Explore the History
Uncover the Mystery
Discover the Music of the late composer, James Burton West.
Book Links
Website
Facebook
Twitter
SoundCloud
Amazon Author Page
On Amazon
More Great Reads: