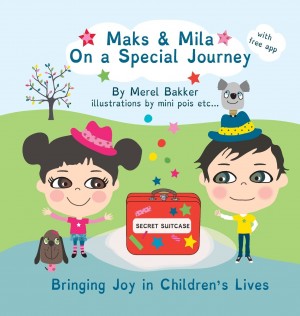 Maks & Mila On A Special Journey : Merel Bakker
Maks & Mila On A Special Journey
The beautifully illustrated books of Maks & Mila are a fun and playful way to help children develop Joy, Compassion, Gratitude, Generosity and Self-Confidence in their lives. Through uplifting storytelling and narrative, the books help children to be Happy and Strong, whatever life brings to them. Both at present and in the future.
Based on a special technique that uses the power of reflection and repetition, 'Maks & Mila' provide the perfect tool for children to embrace Wise and Happy thoughts and to share them with others.
Written by first time author Merel Bakker, the books also features a special font which makes it easier for children with dyslexia to read.
Combined with the powerful illustrations, reading the Maks & Mila books is a fun thing to do for both parents and children. The stories provide a beautiful opportunity for families and siblings to interact and most importantly: it leaves both with a sense of Joy!
The books of Maks & Mila, are for children from ages 4 to 8 years old.
Book Links
Facebook
Twitter
Amazon Author Page
On Amazon
More Great Reads: