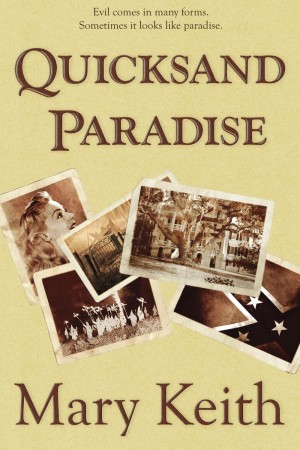 Quicksand Paradise : Mary Keith
Quicksand Paradise
Quicksand Paradise is a historical novel offering a candid look into the Deep South during the Civil Rights Era. It tells the horrendous story of one privileged white Southerner's abuse of power. I believe my book to be the only one of its kind to capture the complete psychotic nature of a misguided Southerner and Ku Klux Klansman at his worst.
Louis Abellard was the only son of a Prohibition-era bootlegger. Wealthy and a prominent member of his Louisiana community, he was also a bully, a drunk, a rapist and a diehard member of the Ku Klux Klan. Louis' son Charles wants nothing to do with any of this, but how do you turn your back on money, power and a father who manipulates you like a puppet? How do you escape a Quicksand Paradise?
Louis Abellard is led astray early on in life by the influence of an unprincipled father. Set in the Deep South in the 1920's through the early 60's, this novel tells his turbulent story as he leaves life after life in chaos–or worse. He doesn't even stop at murder in the name of the Ku Klux Klan.
Driven by his sadistic nature, he relishes the idea of joining the local Ku Klux Klan. Quickly rising to power, he plots and commits unspeakable crimes that leave him craving more. With anything he wants becoming an obsession, he has no qualms about stealing his son's girlfriend through manipulation and lies. But a slight happenstance arouses suspicion, and his son uncovers his treachery; Louis' web of deception finally unravels.
"Looking for a book that will shake you to the core?  Look no further!  Get inside Louis Abellard's deranged mind as he lives up to his billing of "the epitome of evil."
"A thrilling family saga filled with history and riveting drama.  I loved it!"
–David Bischoff, New York Times Bestselling Author
Book Links
Facebook
Twitter
Google+
Goodreads
On Amazon
More Great Reads: