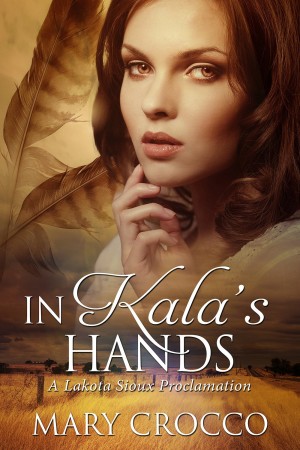 In Kala's Hands : Mary Crocco
In Kala's Hands : A Lakota Sioux Proclamation,
by Mary Crocco, is about a special young woman named Kala, who spends her first twenty-four years as a wannabe artist. Kala has no talent, which makes her life miserable as she suffers humiliation from her teachers and classmates. Always having support from her friends and family doesn't make up for her pensive sadness. Aware her daily scribbles lack talent, she retains her passion.
Living in Rapid City, South Dakota, Kala visits art galleries and museums so often, the staff knows her intimately. Hoping to work at a gallery is a dream that she prepares for by educating herself through college in art history.
Washing dishes at home, Kala suffers a horrific accident and mangles her right hand. During her emergency room visit, an unexpected visitor appears, Howahkan, from the Lakota Sioux Nation, and wraps a sacred blanket around her shoulders while reminding her of a proclamation declared on the day of her birth. Before she leaves the hospital, her hand is miraculously cured, which results in Kala possessing artistic talent. Shocking Kala, but understanding she now has a destiny to fulfill, absorbs her existence.
Family and friends step up to assist Kala with her new purpose in life as an artist. Her boyfriend, Todd, suggests a trip to The Pine Ridge Reservation. The trip reveals Kala's destiny and she fulfills her proclamation by opening her own art gallery while using the profits to build an art school near the reservation.
Unconditional support from Kala's family and friends, before and after her accident, plays a major role in her success. Life events provided Kala the tools for her trips to the reservation, where she maintains much needed art education for the residents. I recommend this book to readers who like stories of family, history, and culture.
Book Links
Website
Amazon Author Page
On Amazon
More Great Reads: