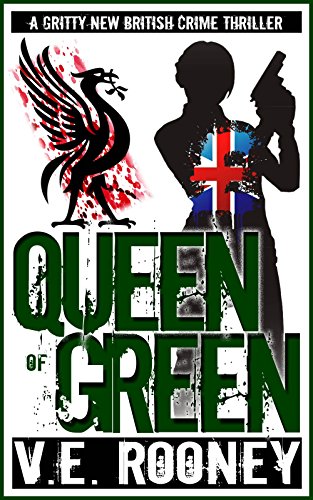 Queen of Green : V.E. Rooney
Queen of Green
How, in the space of six years, did Alison Reynolds rise from a street-wise teenager to become the head of one of the most feared and sophisticated organised crime rings in the world?
In 1997, she was convicted for her part in organising one of the UK's largest and most audacious drug smuggling conspiracies, which involved a consignment of 520 kilos of cocaine with an estimated street value of almost £40 million being shipped directly from Venezuela to the UK.
Two years into her sentence, Reynolds agrees to be interviewed by a journalist about her criminal career and the events that led to her being imprisoned. Expecting a reluctant and impenetrable interview subject, the journalist is shocked at just how open Reynolds is about her drug-dealing exploits.
Starting from early childhood, Reynolds recalls the defining – and sometimes traumatic – moments of her life as she was growing up, which put her on the path to becoming the UK's single biggest cocaine importer.
As a teenager selling £10 bags of weed to her friends, Reynolds' life is changed forever when she comes face to face with Sean Kerrigan, one of Liverpool's most feared gang lords. Unknowingly, they find in each other their ideal accomplice – their perfect partner in crime.
Reynolds' disclosures shock the journalist to her core – and it becomes chillingly clear that imprisonment is not the end of Reynolds' story.
"So you want to know how I got started?
Well, you could talk to the people I grew up with, you could talk to old friends and neighbours, some of the people I worked with. But there are some people who won't talk to you. Some are in jail. Some have disappeared. Some are dead. And you may find your house firebombed as a warning to you to stop being nosey and mind your own business.
You may want to dig up the newspaper reports, Police files, talk to Customs officers, lawyers, judges, politicians. Do you seriously think any of them will cough up?
Well, I have plenty of time on my hands and it's time to correct some lies, dispel some myths and give it to you straight. You may be wondering whether I'm exaggerating or making stuff up. After all, on the surface, it does sound far-fetched, even to me. Sometimes even I can't believe how it all happened. But I have no reason to lie. This is how it all happened. I was at the centre of it. I made it happen."
Book Links
Twitter
Amazon Author Page
On Amazon UK
On Amazon
More Great Reads: