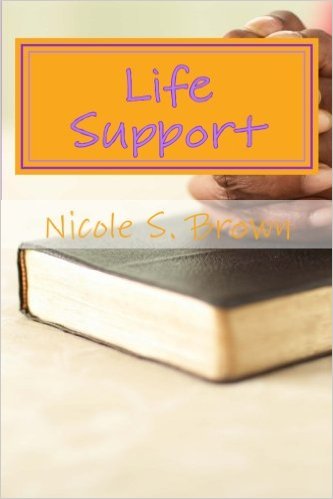 Life Support : Nicole S. Brown
Life Support
This is a poetry journal depicting a thug Donnie Stacks traveling from wrong to right. Donnie Stacks is recovered from death in a lifelong walk of pursuing false wealth. The stealth is lost from Satan and gets taken over by the power of God. A nice young lady Nicole Broussard warns Donnie repeatedly of his demise.
Visions are seen over and over again that Donnie will get beaten to death by so-called friends. As a result, Donnie rejects what the young lady sees while he is still being used by the power of the enemy. Donnie finally sees that she was telling the truth when it is too late and powerful punches is on his plate. Donnie receives days in the hospital dying while his family is crying and calling out to Nikki who keeps responding that Donnie is doing okay, and that God had to fix him that way.
After many days of family calling her to see about Donnie, she reports to hospital to see this prophecy fulfilled. Then many believe that true life support comes from God and God only, and that Donnie's life in God is real, and that the other life was phony.
Book Links
Website
Facebook
Youtube
Youtube 2
Amazon Author Page
On Amazon
More Great Reads: