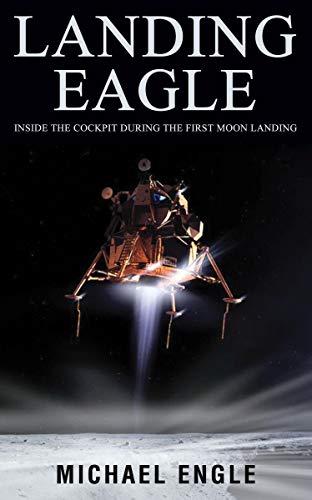 Landing Eagle : Mike Engle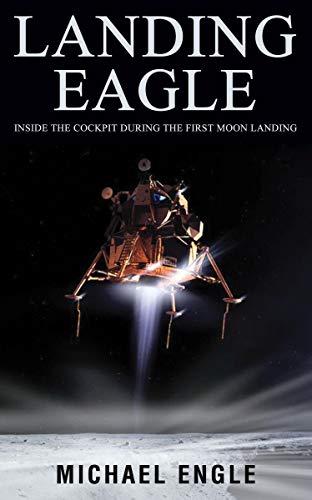 Inside the Cockpit During the First Moon Landing
Fifty years ago, in a small, fragile spacecraft designed for only one purpose—landing on the Moon— two American astronauts prepared to fly that spacecraft from its 10-mile high orbit above the Moon down to a landing on the Sea of Tranquility. It was a sea in name only. It was actually a bone dry, ancient dusty basin pockmarked with craters and littered with rocks and boulders.
Somewhere in that 500-mile diameter basin, the astronauts would attempt to make Mankind's first landing on the Moon. Neil Armstrong would pilot the Lunar Module "Eagle" during its twelve-minute descent from orbit down to a landing. Col. Edwin "Buzz" Aldrin would assist him.
On the way down they would encounter a host of problems, any one of which could have potentially caused them to have to call off the landing, or, even worse, die making the attempt.  The problems were all technical-communications problems, computer problems, guidance problems, sensor problems. Armstrong and Aldrin faced the very real risk of dying by the very same technical sword that they had to live by in order to accomplish the enormous task of landing on the Moon for the first time. Yet the human skills Armstrong and Aldrin employed would be more than equal to the task.
Armstrong's formidable skills as an aviator, honed from the time he was a young boy, would serve him well as he piloted Eagle down amidst a continuing series of systems problems that might have fatally distracted a lesser aviator. Armstrong's brilliant piloting was complemented by Aldrin's equally remarkable discipline and calmness as he stoically provided a running commentary on altitude and descent rate while handling systems problems that threatened the landing. Finally, after a harrowing twelve and a half minutes, Armstrong gently landed Eagle at "Tranquility Base", a name he had personally chosen to denote the location of the first Moon landing.
In Landing Eagle-Inside the Cockpit During the First Moon Landing, author Mike Engle gives a minute by minute account of the events that occurred throughout Eagle's descent and landing on the Moon. Engle, a retired NASA engineer and Mission Control flight controller, uses NASA audio files of actual voice recordings made inside Eagle's cockpit during landing to give the reader an "inside the cockpit" perspective on the first Moon landing. Engle's transcripts of these recordings, along with background material on the history and technical details behind the enormous effort to accomplish the first Moon landing, give a new and fascinating insight into the events that occurred on that remarkable day fifty years ago.
Book Links
Amazon Author Page
On Amazon
More Great Reads: