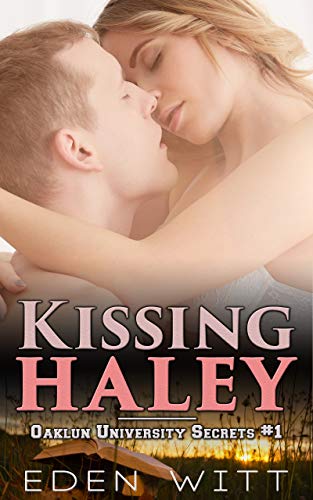 Kissing Haley : Eden Witt
Kissing Haley (Oaklun University Secrets Book 1)
What happens when a reserved college student gets all her buttons pushed at once? Buttons she didn't even know she had? New experiences. New fantasies. One especially unlikely fantasy is about to become a reality.
Haley
I'm what anyone would call a typical second-year college girl. I go to my classes, party a little, have a casual boyfriend, and live in a house with two other girls, the redhead twins Allie and Amber. Things are rolling along just fine… until that night.
I've listened to my best friend Allie have sex in the room next to mine more times than I can count. Like five nights a week. On a slow week. It's never been anything more than a source of amusement. Until one night, in my own bed, something snaps.
An unexpected fire ignites inside me. It triggers an impulsive moment the next morning with Cameron Little, a man I've crushed on for a long time. It triggers all sorts of craziness actually. Did I mention Cam is my boss in the department I work part-time in? Or that he's a professor at my university? Yeah, that could be a problem.
Cameron
I'm one of those laid-back college lecturers that avoids the drama of this town and just gets the job done. I behave myself around the students and keep them out of my social life, much to the chagrin of my morally-challenged best friend Colin. I've just ended things with the secretary I've dated for the past year, and I'm in no rush to get into that sort of commitment again.
Then Haley Mercer does one little thing. The pretty little blonde I've never paid much attention to around the department. She's a student which means she's off-limits to me. She's always kept to herself and done her job, a lot like me. Until she doesn't.
Kissing Haley is a novel-length erotic romance of approximately 56,000 words. Safe, no H/h cheating, and a HEA guaranteed.
Book Links
Website
Blog
Facebook
Twitter
Goodreads
Amazon Author Page
On Amazon
More Great Reads: