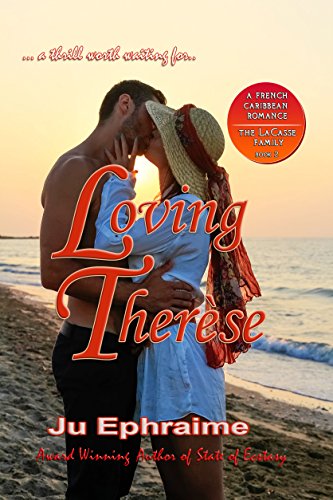 Loving Therèse : Ju Ephraime
Loving Therèse
Loving Therèse is about an intensely passionate English woman, who refuses to follow convention and choose instead to select her man from the natives of the French Caribbean island of Martinique, Foxx LaCasse. But when she began to receive threatening notes, asking her to stay away from him, she fled back to her home in England, without giving Foxx any explanation.
Now two years later, Therèse is back on the island, trying to pick up from where they'd left off, but Foxx was having none of it. He had one goal in mind; to have his way with her, and discard her, as she had him, two years ago. But when he finally reunites with his beautiful, passionate, elusive target, he finds himself offering his protection among other things.
Filled with Ju Ephraime's trademark sensuality, characters you love to hate and men you wish to love, Loving Therèse will have you enthralled with its unexpected plots and refreshing style, as these two destined lovers, recaptured and embraced their love.
Book Links
Website
Blog
Publisher
Amazon Author Page
On Amazon
More Great Reads: