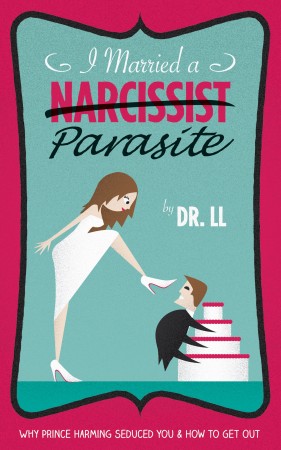 I Married a Narcissist Parasite : Dr. LL
I Married a Narcissist Parasite: Why Prince Harming Seduced You and How to Get Out (Volume 1)
Look around. The white sand. The waves. The pristine pool. Ahhh. What is everyone reading? If it's not a fluffy magazine, then it's probably a book about either being in a romantic relationship or exiting one that is less than romantic. If my book title, I MARRIED A PARASITE, hasn't given it away, mine falls into the latter category.
Prince Harming, an uber narcissist, aka The Parasite, did what he could to destroy me, break my spirit, damage the other relationships I had, and take away everything that I had ever worked for or loved.
But he didn't count on me bouncing back! And why wouldn't I? I beat breast cancer. I lived in a home without walls for nearly a decade, stripped to the studs, sometimes even without power and running water. I knew I could be tough when I had to be. But, first, I had to get back up and find a way to break free, rediscover humor and love, and then have a ball (like a beach ball size worth!) of fun re-inventing myself and rebuilding.
Of course, nothing is perfect and my life wasn't exactly the fairytale life of a Princess. But, lessons were learned along the way and are shared in this book which is best described as "Bridget Jones' Diary" meets "War of the Roses" meets "The Money Pit".
Join me on my journey by reading the all-important "I-wish-I-would-have-but-didn't" do-over wish list and to sing along (ideally off-key with me) to just the right song at just the right moment. Together, we can talk about learning to let go. FYI 10% of book sale profits are donated to Project Safety Net which provides safe harbor for abuse victims and their pets. Available on Amazon.com in Kindle and Paperback.
Book Links
Amazon Author Page
On Amazon 
More Great Reads: