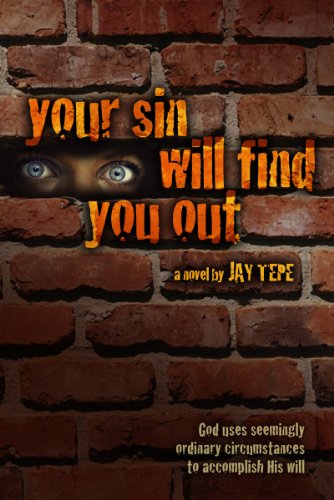 Your Sin Will Find You Out : Jay Tepe
Your Sin Will Find You Out (The Frank Hollander Mysteries Book 1)
When Frank Hollander moves his family from a small Illinois town to Milstot, a suburb of Chicago, it seems like a lifelong dream come true. They move into a beautiful old house, the boyhood home of Chicago's most powerful business mogul – Leonard Kingsley.
While moving in Frank discovers a hidden room in the attic above the garage and in that room evidence of a terrible crime. Could it be connected to a thirty-year-old cold murder case? Frank, with the help of a local police detective and a new friend with CIA connections, starts poking around to solve the case. As the evidence piles up, could the police be closing in on the real killer? Or could there be more powerful forces at work pulling the strings?
Even as Frank is trying to get his family settled into their new life, the horrible history of the house is revealed. Can God really use him to help right the wrongs done so long ago? All he can do is constantly be in prayer for the case to be solved and God's will to be done. Things aren't resolved as quickly or as simply as he'd like and it is in that realization that he learns that life is run on God's timetable – not his.
Frank comes to have a deeper appreciation for just how much God loves us all – even those who commit terrible crimes against others.
Book Links
Facebook
Twitter
Amazon Author Page
On Amazon
More Great Reads: