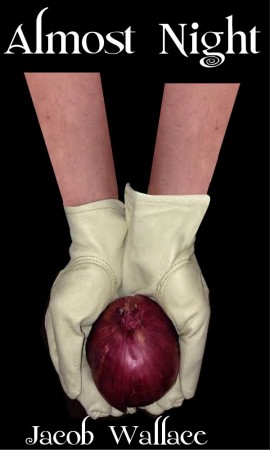 Almost Night : Jacob Wallace
Almost Night
Be ready to laugh in this parody of Twilight and other vampire fiction.
Stella Mallard is a dull and boring girl with no friends. Nothing interesting about her, certainly not enough to inspire boners in an undead monster, a nature loving beast, and a horny Vampire Hunter. That is, until her mother gives her a magical potion before sending her to live with her father in Spoon City on imperial colony Tau 4. Now all the boys want her and the girls hate her. OK, some of the girls want her too.
Stella was content to live out her boring life on Gamma 3. However, since there are no minors allowed in the brothel, her mother sends her to live with her father in Spoon City, on the imperial colony of Tau 4. There she meets up with an old childhood friend, who has zero interest in just being friends anymore, a sexy Vampire Hunter, and the even sexier Ed Skullin.
When she witnesses the beautiful Ed Skullin biting rats, blocking a van with his bare hand, and skipping school on the one day with no overcast, Stella suspects something is up. Will she lose the love of Bocaj, her childhood friend turned into sexy bad boy werewolf? That may be the least of her problems, though it will be her highest priority, when she finds vampires turning themselves into crystal-skinned abominations, and herself in the middle of the apocalypse. Part one of a planned series.
Book Links
Website
Twitter
Amazon Author Page
On Amazon
More Great Reads: