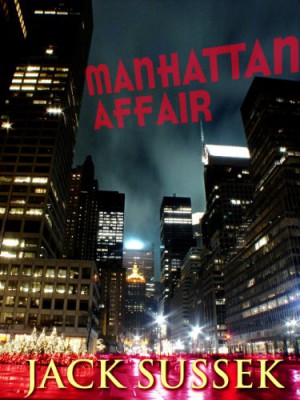 Manhattan Affair : Jack Sussek
Manhattan Affair
In late '90s Manhattan, Jared "Jed" Chase confesses to his lawyer the snaky, illicit route that landed him in trouble and possibly in jail.
Jed led a mundane life working in advertising-sales for The New York Times until he reconnected with recently divorced Katherine Cahill. Her ex-husband, Steve, who happens to be Jed's college friend, introduced the two 10 years earlier—since then, Jed has been obsessed with her. When she approaches Jed looking for help, he understandably jumps at the chance, despite the sordid details.
She hatches a plan to murder Steve and take what she believes is rightfully hers. Blinded by adoration and passion, Jed agrees to do whatever Katherine asks; he even buys the gun.
Within Sussek's strong, captivating narrative, Katherine paints an awful picture of Steve's behavior, going so far as to detail his secret sex-tape business, which, she tells Jed, she was pressured into participating. Katherine, ever the conniving seductress, successfully manipulates Jed, but when the plan falls apart, Jed faces a life or death situation. He realizes that the woman he fantasized about for more than a decade could not be the woman intent on having her ex-husband murdered.
In exquisitely detailed New York City, Jed employs his journalist friends to help piece together a different, even more lurid story than the one Katherine led him to believe.
– KIRKUS REVIEWS
Book Links
Website
Amazon Author Page
On Amazon
More Great Reads: