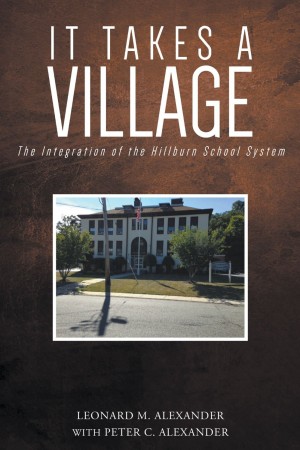 It Takes a Village : Leonard M. Alexander and Peter C. Alexander
It Takes a Village – The Integration of the Hillburn School System
Hillburn is a village of approximately 1,000 residents, just 40 miles northwest of New York City and, until 1943, its elementary school children were sent to separate schools, divided by race.
The Hillburn Main School (known locally as the "white school") was a modern 2-story stucco building with many amenities necessary to foster learning. Brook School (known locally as the "colored school") was a rundown, small building that looked more like a house than a school and it lacked indoor plumbing, physical education space, or even a library.
The integration of the school system was the result of the efforts of Alexander family patriarch, Thomas Ulysses Alexander, who was the president of the local NAACP chapter, along with representatives of the NAACP legal department, including attorney Thurgood Marshall.
The book tells the story of how these two men, and others, successfully forced the school board to close Brook School in 1943, over a decade before the historic U.S. Supreme Court decision in Brown v. Board of Education.
Book Links
On Amazon
More Great Reads: