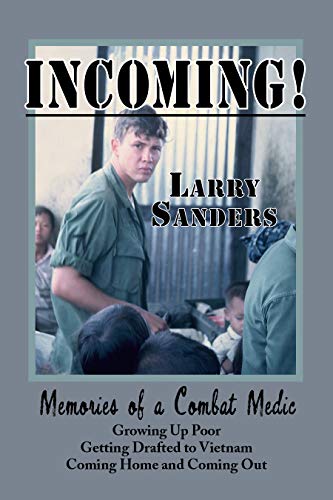 Growing Up Poor, Getting Drafted to Vietnam, Coming Home and Coming Out
What you have before your eyes is not exactly about war—not the dogs of, the glories of, the hell of, nor the strategy of. But it is about a war of sorts—one within the human heart. The struggle of a boy, and then a young man, growing up in poverty, getting drafted into the Army during the Vietnam War, and then coming home during a time when the country had conflicted and shameful attitudes toward Vietnam vets and toward gays. Incoming! is a fitting title because life kept coming at this boy and this young man with all the subtlety of mortar fire and live grenades.
Don't expect a map of Southeast Asia or a timeline that matches up with Wikipedia. Don't expect a learned retrospective of the Sixties in Little Rock, or a Ken Burns' treatment of letters from the front. You will not be sitting in your chair looking inside a life. You will be inside Larry, looking out through the eyes of a child. You will, for a little while, be Larry and walk in his shoes. And you won't be disappointed.
Book Links
Amazon Author Page
On Amazon
INCOMING! Memories of a Combat Medic : Larry Sanders