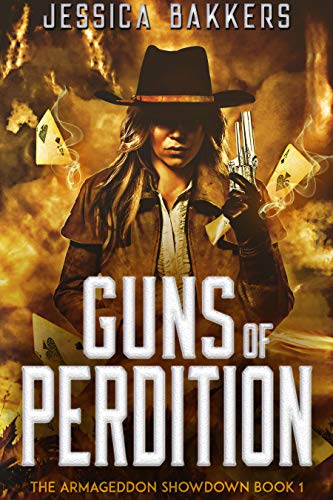 Guns of Perdition (The Armageddon Showdown Book 1) : Jessica Bakkers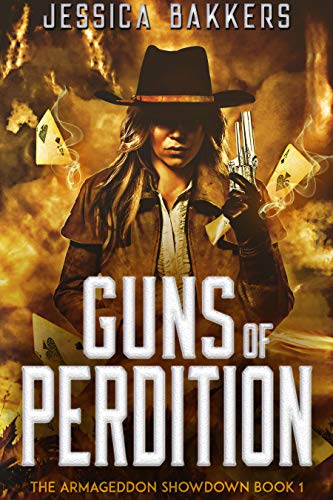 IT TAKES GRACE TO HUNT WHEN IT'S DARKSOME
Jessie expects he'll be forever cleaning up after the cowpokes of the Bad Hoss Saloon. That's until the day a drifter strides through the doors, and blows away a blood-sucking demon, along with Jessie's belief in an everyday world. Jessie is captivated by the enigmatic Grace with her pearl-handled revolvers and wolf companion. He throws in his normal life and follows her across the Wild West, as she hunts down and slays the evil creatures that roam the frontier.
Along the way, they seek the aid of a Native American warrior, cross paths with a Cajun Queen, and encounter a small-town tycoon with a deadly hunger for gold. Animosity and distrust plague Grace and Jessie, and their strange group of allies, but they must put their differences behind them if they're to have any hope of finding and defeating the frontier's true evil, the Darksome Gunman.
"The Armageddon Showdown" is a dark-fantasy, weird western series of epic proportions, focusing on the age-old battle between good and evil, though in the Wild West, it's not always clear just who is good and who is evil.
Join Grace Dyer and her band of miscreants as they battle demons and demi-gods, in the frontier's deadliest conflict…the Armageddon Showdown.
Book Links
Website
Twitter
Goodreads
Amazon Author Page
On Amazon
More Great Reads: