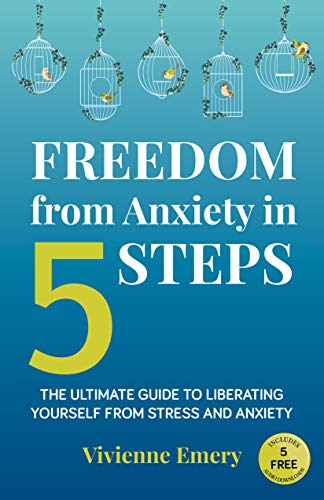 Freedom from Anxiety in 5 Steps: The Ultimate Guide to Liberating Yourself From Stress and Anxiety : Vivienne Emery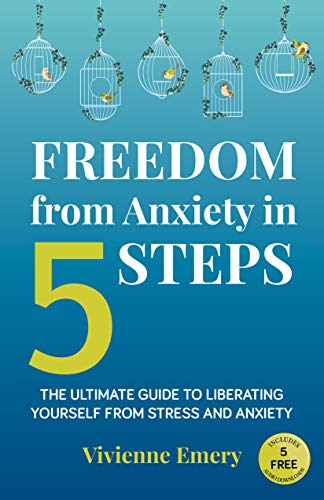 Finally, a book that looks at all aspects of anxiety, not just your thoughts and feelings, but what is going on in your brain and nervous system. The information provided over-delivers in every way. This book really is the ultimate guide for anyone wanting to liberate themselves from anxiety.
5 FREE AUDIOS INSIDE PLUS A BONUS RECORDING TO HELP YOU SLEEP
There is nothing more miserable than not feeling safe in your own body so take action and join the 5-step program. Reset your nervous system and free yourself from the chains of anxiety with this no-nonsense, easy to follow, step-by-step guide.
The free audios provided are designed to:
– relax the nervous system so that you are no longer stuck in an anxious state
– re-program the conversation between the thinking brain and the emotional brain
– boost your confidence in taking back control during an anxiety attack
– help you observe your bodily sensations instead of identifying with them
– enable you to shift from negative worry states into a more positive mindset
– use the power of your imagination to change how you experience stress and anxiety
At the end of the 5 steps you will no longer:
– fear the symptoms you feel in your body
– be in any doubt as to where your anxiety is coming from
– fear losing control during an anxiety attack
– get caught up with unwanted negative thoughts that fuel your panic sensations
– believe you are lacking in resources or innate tools that can help you take back control
– rely on quick fixes that fail to deliver effective or permanent changes
Based on up-to-date neuroscience but written in an easy-to-read style this book and the free audios will revolutionize the way you perceive and treat your anxiety.
Book Links
Website
Instagram
On Amazon UK
On Amazon
More Great Reads: