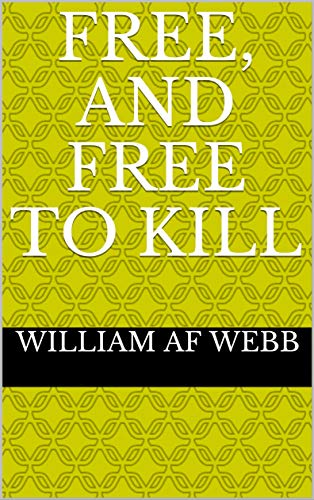 Free, and Free to Kill : William AF Webb
Free, and Free to Kill
Why did the AIDS virus, a known African animal disease, strike the USA so disproportionately?
Britain, France, Belgium, Spain, and Portugal still have ties with their former colonies with thousands of their citizens visiting Africa every year both on business and as tourists. Yet the USA, with less than 1% of the population even holding a passport, had ten times the number of victims as Europe at the outbreak of the AIDS virus. And why did two different strains of the disease coincidentally arrive simultaneously? This well researched novel strives to answer these puzzling questions.
Two long term prisoners undergoing clinical trials are unexpectedly released into the community where they unwittingly commence infecting the general public. The authorities are desperate to stop the spread of infection any way they can and the released men soon discover that dark forces are on their trail.
Pete Taylor acquires a new identity and escapes to Africa in an attempt to shake off his pursuers, but the secret he holds means he must be constantly looking over his shoulder. Marlon Benjamin travels north to Rochester but has to flee when his new location is discovered, but not before disaster strikes. Only one thing is on his mind thereafter; revenge.
The author has used his considerable experience of living in the USA and Africa to bring to life the locations where the action takes place.
Book Links
Facebook
Twitter
On Amazon UK
On Amazon
More Great Reads: