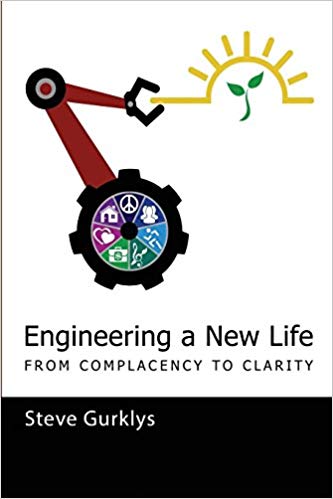 Engineering a New Life : Steve Gurklys
Engineering a New Life: From Complacency to clarity
Steve Gurklys seemed to have it all: Engineer, successful career, 27-year marriage, living in California with an ocean view and five parrots. Then it all came crashing down because the foundation was not solid.
In this book he rebuilds his life one piece at a time and documents it with effective examples and exercises. If you want to try a different approach and engineer the life you dream of – this is it! The exercises will guide you through the process of accessing then transforming your life into what you really want.
"Engineering a New Life" is a complete overhaul of one's life from a state of chaos and uncertainty examining seven distinct areas on the "Life Wheel": Home, Health, Art, Friends/Family, Career/Finances, Spirituality and Romance.
The book also documents the author's personal struggle with family dysfunction and emerging whole with help from many people including two therapists and a 12 step program – Adult Children of Alcoholic/ Dysfunctional Families (ACA).
Through the course of the chapters and exercises, you will discover, refine and commit to at least one goal in each of the seven Life Wheel categories. The book culminates in a completed "Life Goal Summary" which is your Certificate of Completion for engineering your new life. You can then cut the certificate out of the book and proudly display in a prominent location as a reminder of your new exciting goals and to get support from others who see them.
Unlike other books that rely on mysticism or ancient beliefs to over-promise and under-deliver, "Engineering a New Life" is a concise, practical and no-nonsense blueprint on what the author used himself to create a great life based on critical thinking that you too can implement.
There's a great deal of self-help books out there so why choose this one? Because this one moves from just words to action – your action! Loaded with images, diagrams and exercises, Steve compels you to act on what you want RIGHT NOW! So stop browsing the bookshelf or brooding over your browser. Buy this book and start living your life the way you want – with unreasonable happiness! Or just keep wandering aimlessly – the choice is yours and yours alone.
Key Features:
Finding purpose in your life.
How to make an impact in what you do.
Transform your life into what you really want.
Fear is a scary thing.
Has someone figured out your programming and hacking into you? Don't let them!
What the heck is a spiritual awakening?
Connecting with others is our purpose on the planet.
A passion for everything.
Book Links
Goodreads
Youtube
Amazon Author Page
On Amazon
More Great Reads: