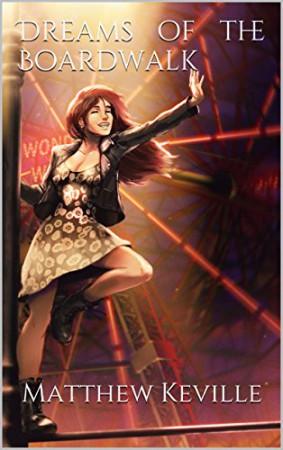 Dreams Of The Boardwalk : Matthew Keville
Dreams of the Boardwalk
Sarah Brannigan's life has fallen to pieces at the age of forty-five. Her fairy tale marriage has ended, her job history has been a downward spiral since 2008, and she's paying way too much rent to live in a tiny room in an apartment that she shares with five roommates.
To escape it all, she walks the streets of New York City, seeking out the hidden wonders of the City. And like many before her, she falls in love with Coney Island. Then one day, she falls asleep on a boardwalk bench after a long walk in the hot sun, and she falls into a dream. A dream of that seems to reach into Coney Island's past.
A dream of everything she wished for when she was young. A dream whose effects linger even after she's woken up. Soon the dream begins to take over as Sarah uses it again and again to seek escape from her failed life.
She's getting everything she ever wanted: youth, love and adventure. But as she goes deeper into the dream, she gets ever closer to nightmare.
Book Links
Website
Blog
Facebook
Goodreads
Amazon Author Page
On Amazon
More Great Reads: