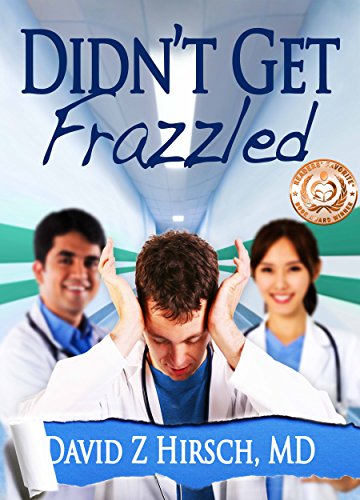 Didn't Get Frazzled : David Z Hirsch
Didn't Get Frazzled
A fictional story about life and love in medical school, Didn't Get Frazzled takes the reader on a four year adventure into the bowels of Bellevue Hospital and the equally strange world of the mid '90s New York City singles scene.
"Echoing the comedic tone of the 1989 comedy Gross Anatomy, the novel's affection for this uniquely strange experience makes it the best fictional portrayal of med school since ER. Readers will savor the experience." – BlueInk Review (starred review)
International Book Award Bronze Medal Winner Readers' Favorite (Fiction – Humor/Comedy) and INDIES Book of the Year Award Finalist
Medical student Seth Levine faces escalating stress and gallows humor as he struggles with the collapse of his romantic relationships and all preconceived notions of what it means to be a doctor. It doesn't take long before he realizes not getting frazzled is the least of his problems.
Seth encounters a student so arrogant he boasts that he'll eat any cadaver part he can't name, an instructor so dedicated she tests the student's ability to perform a gynecological exam on herself, and a woman so captivating that Seth will do whatever it takes to make her laugh, including regale her with a story about a diagnostic squabble over an erection.
Didn't Get Frazzled captures with distressing accuracy the gauntlet idealistic college grads must face to secure an MD and, against the odds, come out of it a better human being.
Book Links
Website
Blog
Goodreads
Amazon Author Page
On Amazon
More Great Reads: