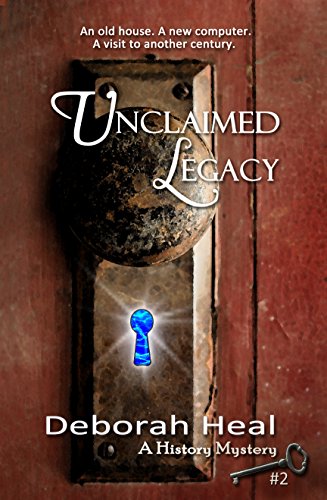 Unclaimed Legacy : Deborah Heal
Unclaimed Legacy
The olden days aren't all they're cracked up to be . . .
"I call it time-surfing," Abby said.
"It's like being there," Merri said, "except no one can see or hear us."
"Whatever you call it," John said, "that was crazy—beyond realistic. I mean, I was inside that guy's head."
Those who have read Time and Again  know that Abby Thomas is a college student on a summer service project with 11-year-old Merri. And they know that the summer is not going the way Abby had expected—but in a good way. For one thing, she meets a very nice guy named John Roberts. And for another, she discovers a strange computer program called Beautiful House that lets her fast-forward and rewind life. Not her own, of course, but those of the people who lived in Merri's old house.
And now Beautiful House comes in handy when Abby, John, and Merri agree to help the "Old Dears" next door with their family tree.
Except Abby and John learn more about one of the ladies' ancestors than they ever wanted to know. Convicted in 1871 of murder and arson, Reuben Buchanan is a blight on the family's reputation. But was he really guilty? Abby and John must get inside the mind of a murderer to find out.
And while they're rummaging around in the Old Dears' family history, they also find Nathan Buchanan, a heroic relative connected to the Lewis and Clark Expedition—and a legacy waiting to be reclaimed.
But the most important discovery they make is that God's promise to bless a thousand generations is true.
"In this sequel to Time and Again Deborah Heal has taken pieces of real life history and woven them [into] a fantastic story geared to keep the reader entertained and on the edge of their seat… I adored every single bit of this. It has the perfect blend of history and action-packed suspense to keep young adults glued to the pages… I think she has mastered a home run here. This one easily rates a 5 out of 5 stars for me…and I hope it will work its way to the top of the best seller lists for young adults." – Pirate2240 "Kat" Amazon Reviewer
Book Links
Website
Facebook
Twitter
Google+
Amazon Author Page
On Amazon
More Great Reads: