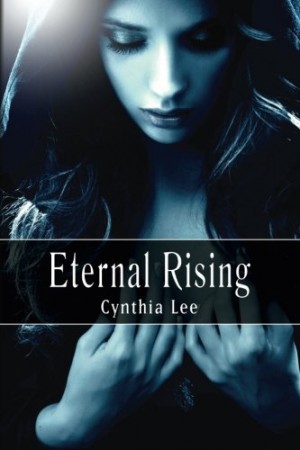 Eternal Rising : Cynthia Lee
Eternal Rising, Vol. 1 (Auriyanna Delmar: Link of Souls)
"Life is hard and nothing is for certain.
The world I came to know was a far cry from the books my stepmother read to me, a far cry from the fairy tale she wanted me to believe in. My life was a testament to the fact that the fairy tale was nothing more than a beautiful lie. Children are so innocent and so pure, believing in everything; untarnished by the reality and harshness of the world. But this innocence was not something I was able to hold onto long.
Everything revolved around life, death and a world that I never could have imagined existed around me. They say that I'm a gift. That the fate of our world and theirs rests in my hands. But some want me dead.
Regardless of the winding road this path has taken me on, I don't know what my life would be like without it. I wouldn't know who I really was or what I really was. I wouldn't know who he was. He would be nothing more than a dream to me and without him, there would be a void that nothing could fill."
If you are a fan of Fantasy Fiction or the ever popular Vampire/Romance Genre, you will love Eternal Rising, Volume I in the series: Auriyanna Delmar: Link of Souls!
This is not your average vampire tale full on teenage angst but is instead, a new and more mature take on the modern vampire, deeply rooted in Egyptian mythology. Inspired by the need to create a story that would combine the present, an ancient past, mythology with a twist and an epic romance, Cynthia Lee began the process of putting the plot lines and characters in place back in 2008, and now Eternal Rising is ready for the world!
What is Eternal Rising all about?
Every society has laws. Those who create them, change them, and those who enforce them. In vampire society, this was no different but there was one exception: they had two separate groups to oversee their kind. The Elders were pure and good. They respected humanity and believed themselves to be more than just soulless creatures, destined to walk the earth, killing and feeding off of life itself to survive. They believed in an ancient Egyptian prophecy that would change what they were so that they could walk the earth as immortals without the need for blood, to calm a soul in turmoil and put their astral bodies to rest.
The Council on the other hand, was as sinister and evil as they came. More like a group of vampire vigilantes who made their own laws by which their kind should abide, put fear in the hearts, beating or not, of all who encountered them. With no regard for humanity, they believed in the monsters they proclaimed themselves to be and held onto the notion that there was nothing more formidable than the true vampire: nothing more powerful than consuming life itself.
Auriyanna Delmar was the product of The Council's worst nightmare yet the answer to the prayers of The Elders. A child, born of a human-vampire union, was destined to follow a most unfathomable path. From living in a broken home with her drunken father and kind step-mother: a tortured childhood in Leavenworth Washington she never understood, to moving to New York seeking a better life, meeting her friends, meeting her protector and her lover: it was all a part of a bigger plan. A plan that was a part of something that fate had already chosen for her: the path she was on was always destined to be.
Leaving everything behind after an attempt on her young life, she runs away to New York City as her escape from everything that she wanted to leave behind. It was an escape from the painful memories and unanswered questions she now wanted to bury deep in her past. Unfortunately, her past follows dangerously close behind, as does the mysterious man who saved her life that fateful night. In the city, everything was normal or at least it felt that way. Then the dreams started and everything changed. Damion Villarreal had his hold over those dreams, but one day when she goes back home to find answers, he becomes something real: something tangible she can hold and touch. Being drawn to him beyond her control, she becomes immersed in his world and finally learns who and what she truly is. What she learns opens up her very own Pandora's Box. And now, she is a part of a world that she never could have imagined existed, but a world that she had always been a part of.
Book Links
Website
Blog
Twitter
Amazon Author Page
On Amazon
More Great Reads: