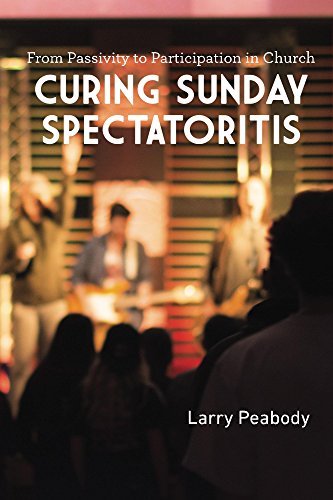 Curing Sunday Spectatoritis : Larry Peabody
Curing Sunday Spectatoritis: From Passivity to Participation in Church
Churches have traded participation by the people for performance by the professionals. "Churches are filled with passive spectators rather than active participants in the mission of God." So says Ed Stetzer, author, pastor, and church missiologist. Spectatoritis, said twentieth-century theologian Elton Trueblood, is "a terrible sickness in our churches." Curing Sunday Spectatoritis takes aim at that illness by calling for participatory church services. It answers the biblical "why?" for participatory church but does not stop there. It also speaks to the contemporary "how?" by offering stories in which 25 church leaders explain how they are doing so.
Today, Christians of all ages are hungering for the kind of participation that characterized first-century churches. The New Testament includes more than 50 one-another/each-other instructions—all based on Jesus's New Commandment: "Love one another." Paul, James, Peter, and the author of Hebrews all elaborated on the New Commandment, saying that loving one another includes encouraging, spurring on, instructing, and much more. And we are to act in those ways right in our church gatherings.
Like arthritis, bronchitis, and appendicitis, spectatoritis brings on a measure of disability. But unlike those and other inflammatory "-itis" conditions that ache and throb, Sunday spectatoritis typically leaves its victims quite pain-free, even comfortable. And who among us, including church people, will seek a remedy if unaware of any disabling symptoms? But spectatoritis can be diagnosed and cured. This book is for all who love the Body of Christ and work for its well-being. It is for pastors, church leaders, and church planters in all kinds of communities—in urban, suburban, exurban, and rural congregations. It is for Christians who seek to encourage increased congregational participation and to support leaders as they pursue that objective.
More Great Reads: