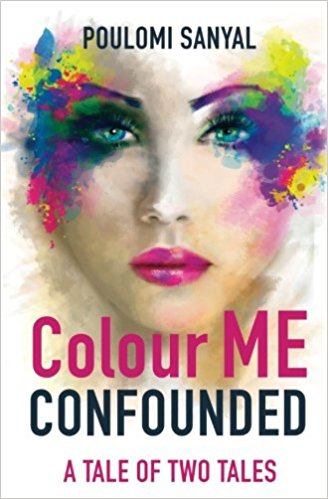 Colour Me Confounded : Poulomi Sanyal
Colour Me Confounded: A Tale of Two Tales
A friendship forgotten? A brewing romance? Is there more to it than meets the eye? Author Poulomi Sanyal draws upon her own experiences as a woman in the modern professional world to tell the stories of two women struggling with finding balance in their lives.
Both stories aim to take us on a turbulent yet humorous voyage through the emotional roller-coaster ride of intimate personal relationships both romantic and platonic. The main characters in this book struggle to strike a delicate balance between living up to the challenges of demanding professional pursuits and forging close personal ties with the people that unwittingly cross their paths. Their journeys take them across many continents and through wild adventures while their relationships are subject to unexpected and often astounding twists and turns.
In the first of two stories, teenagers Rupa and Minerva think they will be friends forever. The two high school girls are virtually inseparable, despite their many differences. Years later, Rupa looks back on that relationship and the dramatic incident that ended their friendship. While she writes her memoir and travels the world, she comes to a realization about her connection with Minerva and the experiences they shared.
The second story centers on Ariana, a Canadian Iranian engineer. She is happy with her work in Toronto, but a friend's surprise career move brings back old memories of a previous job in Montreal. She hated that job and felt isolated and unappreciated. There was one person, however, who made it worthwhile.
As both Ariana and Rupa look back on their pasts, they come to startling discoveries about their current lives. Will these insights lead the two to choose different paths—or just fill them with more regret?
More Great Reads: