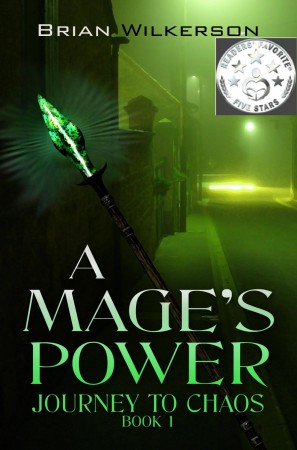 A Mage's Power : Brian Wilkerson
A Mage's Power
"I am Tasio the Trickster and I am here to help you."
Due to 'help' from a mischievous trickster, Eric Watley finds himself stranded in a world where monsters and magic are as common as homework and hotdogs. Humans live in walled cities for protection and live amongst other creatures. Out of the four friends he makes after his arrival, only one is human; the others are two demons and an elf.
While he struggles to adjust, he receives an offer to join the Dragon's Lair mercenary guild as a battle mage. Joining him are the glory-seeking warrior, Tiza Sprial, snobbish healer, Nolien Iteleh and veteran magic swordsman, Basilard Bladi as team leader. As a novice, his missions range from washing someone's laundry to escorting a merchant caravan through a den of monsters.
Between training and missions, he's unaware of the forces at work in his life. Tasio the Trickster is not done with him yet and others, both mystical and mundane, are paying close attention. All of them have a stake in his quest to acquire A Mage's Power.
A Mage's Power is Brian Wilkerson's debut novel.  After swallowing his newbie pride, he had it professionally edited. The Fourth edition was published on September 22 2013.
Book Links
Website
Twitter
Goodreads
Amazon Author Page
On Amazon
More Great Reads: