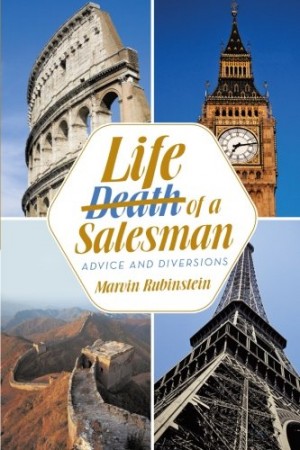 Life of a Salesman : Marvin Rubinstein
Life of a Salesman
We are all familiar with the local grocer, bookshop, bakery, shoe store, bar, etc. and may even know the proprietors  personally. They all have one thing in common––they are salespeople.
Marvin Rubinstein's latest book, Life of a Salesman, just off the press, provides a serious story of the adventures and discoveries in the life of a different type of salesman, one who wanders the United States and the world, trying to make a buck by peddling merchandise to stores, shops and factories.
In this personal account, Marvin Rubinstein looks back at a 50-year career traveling from city to city and country to country trying to convince everyone of the superiority of his products and tells us what it's really like to be in the sales business.
Even if you're a salesperson sitting in  one of the local shops mentioned above,  you can find entertainment and valuable lessons in this instructive narrative. You'll discover:
tips on converting prospects into customers
help in  promotional efforts
advice on making air travel cheaper and  more comfortable
guidance on avoiding cultural missteps ,  as well a
recommendations on making the best of your  spare time sightseeing
wining and dining suggestions in the world's major cities
ground rules for meeting friendly members of the opposite sex (if you're in that market).
Part memoir, part travelogue, and part sales guide, Rubinstein's story recalls the wide range of trials, tribulations, opportunities, and disappointments that he experienced during his lifetime of sales adventure.
Book Links
Website
Email The Author
Amazon Author Page
On Amazon
More Great Reads: