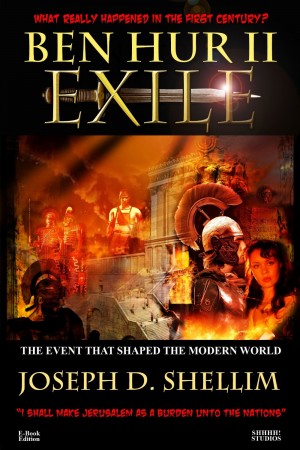 Ben Hur II – Exile : Joseph D. Shellim
Ben Hur II – Exile
Quotes:
* "No Library is complete without this book, every page astounds. I never wanted it to end." – Stanley Joseph – Director, Producer, Composer).
* "I could not 'put it down' to take a breath!" (K. Solo, Literary Advocate).
* "The war between Rome and Jerusalem deserves to be called one of the most important events in world history. If the Temple might still be standing today, the history of the world would be inconceivably different." – (Moses Hess; "Rome and Jerusalem.")
…Ten years in the making and a long awaited historical account of history's most impacting century. A new appraisal based on firsthand witness accounts is of awe and wonder, honor and Roman decadence, the great clash of beliefs, and the holiest war of all. There is victory shrouded in defeat, seen via the triumph of a forbidden love of a Roman and a Nazerite maiden amidst history's greatest destruction. Alexander the Great's request to the Jews for the first translation of the Hebrew Bible ['The Septuagint'] became a greater feat than all his wars – it changed history.
Bernice: "What did you imagine this war was all about, my brave Roman warrior?"
Vespasian: "Gods are Gods – what difference which one!?"
Presented in a mode for today's readers, with 50 images, new art works and a vast index for keeps, the tedious historical archives unfold with real dialogue to take you into this history-turning arena presented in 3 acts:
* AN ANCIENT SCROLLI * A FORBIDDEN LOVE   * HOLY WAR.
Also includes supplementary Preview highlights of 3 historical books.
Book Links
Facebook
Amazon Author Page
On Amazon
More Great Reads: