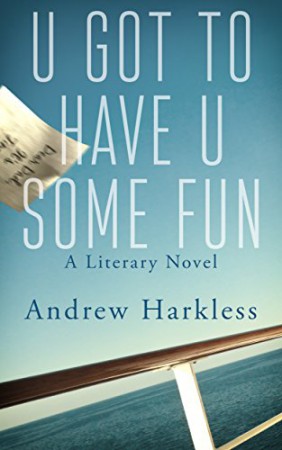 U Got to Have U Some Fun : Andrew Harkless
U Got to Have U Some Fun
A mysterious ticket sends everyman John Smith on a life changing cruise ship vacation. The note with the ticket simply says: It's time.
Having existed within a comfort zone of ordinary and mundane his entire life, John is forced to honor a promise made to his only child—an Army Sgt. killed in Afghanistan six months prior. During seven days in a variety of Caribbean ports and days at sea, John meets a diverse blend of passengers and crew who influence his life in monumental ways. His story will have you crying, laughing, crying while laughing, angry, rooting, and ultimately saying yes to one question…would I do anything for my children?
One reviewer said, "Perhaps the most important person on board is the spirit of John Smith's dead son." The affect his son's life and sacrifice had on others is a revelation the grieving father did not expect.
Will John find out where the ticket came from? What will John's life be like when he returns to port?
Rivaling the spirit of Winston Groom's Forrest Gump and Herman Wouk's Don't Stop the Carnival, U Got to Have U Some Fun is the caterpillar metamorphosis of Good Intent, Kansas' John Smith into his "butterfly" potential. He experiences a diverse supporting cast of ship employees, passengers, and island natives interesting enough to make the most steadfast homebodies dream of adventure. This group comes together in many ways and, in the end, one shines above the rest when who sent John's ticket and why is revealed; although all intertwine in a satisfying conclusion…or new beginning?
Secondarily, the curtain is pulled back on the working conditions and often unethical business practices of the world's largest cruise lines. Whether you are one of the 20 million people who cruise each year or someone who rarely even takes a vacation, this vivid work of fiction feels like the real thing.
Book Links
Website
Facebook
Goodreads
Amazon Author Page
On Amazon
More Great Reads: