Apocalypse : Dr. Andrew C S Koh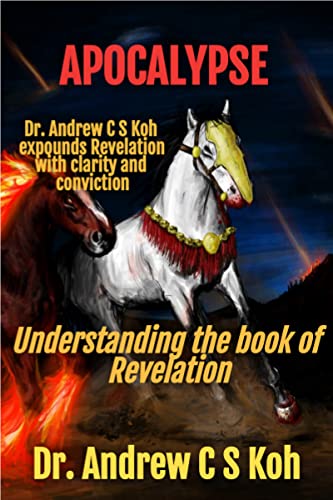 The Book of Revelation is the most challenging New Testament book to unravel. This is God's message to all believers regarding future world events. This book unravels the meaning of keywords, verses, symbols, and personalities in the book of Revelation. It lays out God's overarching plan of salvation and promise for all believers. This is the last book of a series of the author's New Testament commentaries designed for laymen. This book is suitable for readers from all levels of maturity, whether a bible newbie, a bible scholar or anywhere in between. The practical and relevant insights help you get the most out of God's word.
Many of us find the Book of Revelation intimidating. There is also confusion over its intended audience. Because of this, the story has changed many times, and the story about the Antichrist and the 144,000 chosen people is still being told.
Dr. Koh uses everyday language to explain the writings of John to his seven churches. He tells them to prepare themselves for the hard times to come.The Apostle also bids them rejoice, for final victory is coming. He encourages them to take heart with the help of the Holy Spirit and be ready 'in season and out of season' to witness for Jesus Christ and endure in their faith to the end.
The author points out how disappointed John would be if the reader only focused on the tribulation, the terrible plagues and the judgment. The Apostle wrote this 'revelation' so that all of us would be blessed if we take heart and prepare ourselves accordingly.
God will be victorious, and the faithful will hear Him say, "Behold, God's dwelling is with His people, and he will dwell with them, and they will be His people, and God Himself will be with them as their God."
Book Links
On Amazon
Nook
Apple Books
Kobo
Smashwords
Scribd
Vivlio
Amazon Print
More Great Reads: