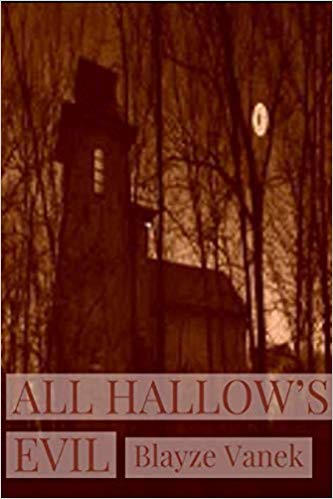 All Hallow's Evil : Blayze Vanek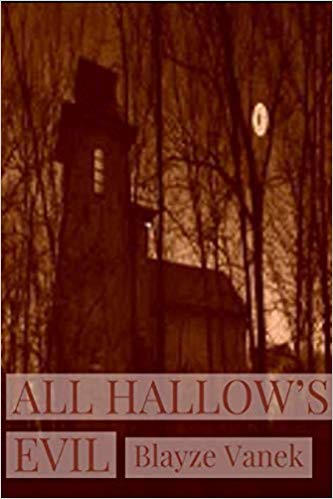 "I am personally appalled that anyone would use our product, for these inhumane acts, that have occurred." – Lucas Grier
On October 23rd, Jack Dier and his wife were celebrating a pre-Halloween party for their friends. That night, Dier puts on his costume and, without warning, kills his neighbors, the party-goers and his wife. He is later, shot by the police.
As the police investigate, Agent Justaine Monar is sent in to assist them, for his evaluation for promotion. After puzzling results from the coroner on the killer, he follows leads on why this is happening all over the town of Clarion, Illinois. A hacker group is suspected and a task force is established to find them.
After more murders occur, and Monar, being warned through cryptic messages and vandalism, he finds out Mayor Sara Dulcet is conducting a Town Hall meeting, to calm the fears of the residents. In the meeting, an angered Monar accuses Lucas Grier, former software millionaire and now, costume manufacturer, of the killings. Grier's ultimate plan is to prepare Clarion for The Ravaging, slated on Halloween.
Grier seems to be untouchable and above reproach, until Monar and Dulcet team up and follow the leads, to his compound. Grier's plan for ultimate evil domination is destroyed, when the entire facility erupts into flames.
Part 2: Worldwide Evil
After surviving the compound's destruction, Julie Grier moved to Italy, is an Italian citizen, and owns the biggest technology company in Europe. In Sacred Justice, Texas, Monar and Dulcet have an 'arrangement' to live together. Commuting to FBI offices in Fort Worth, Texas, his Supervisor informs them that Julie Grier is alive, under her new name, Lucia Michelli. Invited to a bash held by Terry Dersman, one of Grier's partner, they are framed with incriminating photographs. Monar's boss summons them into his office to initiate Operation Monkey Wrench; to investigate and cease any wrongdoings.
Setting up in Naples, they find out Michelli is having them observed, by her snipers. Implanting cryptic code and being a practitioner in the Black Arts, Michelli prepares her Ultimate Business Prize, a subliminal software package to unlock "The Second Ravaging", a more massive, worldwide variance of Lucas Grier's plans.
The murder count increases, as they come up with nothing. After meeting Ti Quang of Interpol and Gina Gastardi of the Special Ops Division of the NSA, they realize this becomes a literal war, between good and evil. Raiding Powerengine Headquarters, they see the plans of Michelli backfire, and learn a lesson of the power of life, love, and forgiveness.
Book Links
Twitter
Instagram
On Amazon
More Great Reads: