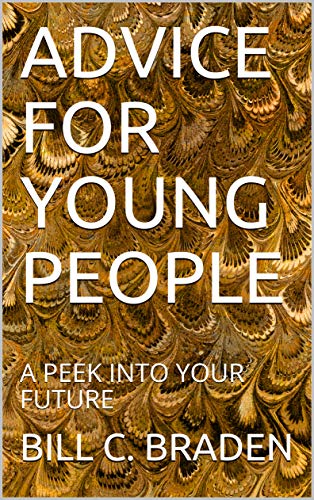 Advice For Young People : Bill C. Braden
Advice For Young People: A Peek Into Your future
340 pages jam packed with good information for readers of all ages.
Young People What Will Your Future Be Like? Read This Book.
Young People, what will your future be like? No one can foresee the future, so how can I claim to predict your future? In the 1950's, one of Doris Day's greatest hit songs was "Que Sera, Sera." The song went like this: "Que sera, sera, the futures not ours to see. "Que sera, sera." Each verse would ask questions about the future: "Will I be rich? Will I be famous?" Then the chorus would reply: "The futures not ours to see. "Que sera, sera." The theme of this song is both true and false. We cannot know the details of what will happen in our lives. However, we can look forward to a rewarding and meaningful life, if we have the wisdom and character – mindset, willpower – to make it happen.
One look at the table of contents and you will see that this book has substance. It mentions and offers advice on the majority of life's most difficult questions.
TABLE OF CONTENTS
INTRODUCTION
CHAPTER ONE: GOOD HEALTH
CHAPTER TWO: EDUCATION
CHAPTER THREE: A GOOD JOB & SUCCESS ON THE JOB
CHAPTER FOUR: A NICE HOME
CHAPTER FIVE: A HAPPY MARRIAGE
CHAPTER SIX: WISDOM AND CHARACTER
CHAPTER SEVEN: FULL CENTURY AWARENESS
CHAPTER 8: HANDBOOK OF ISSUES.
• ABORTION
• ADDICTION
• ADVERSITY
• AMERICA: IMAGINE THE WORLD WITHOUT HER, BY Dinesh D'Souza
• CAPITOL PUNISHMENT
• CHILD REARING
• CORPORAL PUNISHMENT
• CREATION DATE
• CREATION vs. EVOLUTION
• CREMATION
• DEFENSIVE DRIVING
• DESALINIZATION OF SEA WATER
• FINANCIAL PLANNING
PLUS MUCH MORE…
Book Links
On Amazon
More Great Reads: