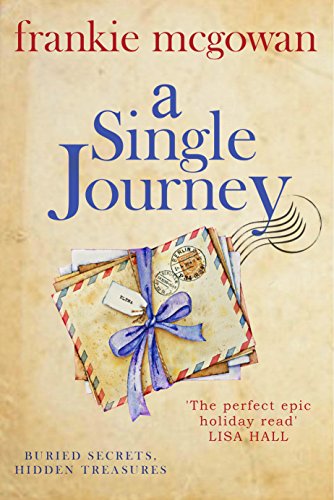 A Single Journey : Frankie McGowan
A Single Journey
Harriet has begun to despair of her life.
With a failed relationship behind her, a business on the rocks and a flat that's falling apart around her ears, she could really use some luck.
Elena Banbury, née Guseva, an elderly but imposing Russian woman who is Harriet's neighbour and landlady, frequently entertains the punters at Harriet's jewellery stall with tales of the palaces of St. Petersburg and the treasures of Fabergé. But Harriet sometimes feels, guiltily, that she could do without the endless errands that seem to fall to her as Elena's friend.
Then, unexpectedly, when Elena dies, she leaves all her worldly goods to a grateful Harriet. In time, however, it becomes clear that others are shocked by Harriet's good luck, too. Shocked… and very, very unhappy.
Challenged in court by Elena's family who live in Berlin, Harriet is forced to give up her inheritance and long-dreamed-of plans for a new business, and start her life again. But with her reputation in tatters and the memory of Elena tainted, Harriet knows a great injustice has been done.
Against the advice of her friends, family and lawyers, Harriet sets off on her own, very singular journey to Berlin.
In the weeks that follow she meets rich and poor, the glamorous and the criminal, the honest and the secretive, and begins to see that perhaps she has something to learn from them all. Something to learn about herself, and something to learn about her priorities.
She knows she has to fight for justice. But, when she meets the scholarly, perceptive Neil, who generously tries to help Harriet in her mission, but who is struggling with a complicated marriage, she must also decide if she'll fight for love, too.
A Single Journey is a compelling and lively story, combining colourful characters with a page-turning plot and romantic highs and lows.
Fans of Jojo Moyes and Lucinda Riley will be hooked.
Book Links
Website (publisher)
Facebook (publisher)
Twitter (publisher)
Instagram (publisher)
On Amazon UK
On Amazon
More Great Reads: