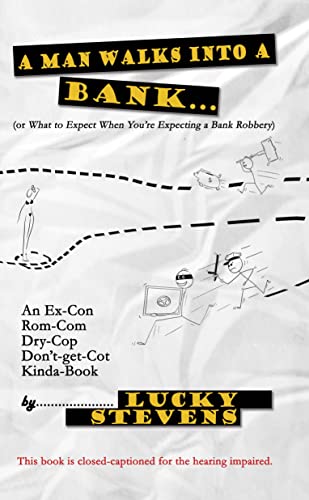 A Man Walks into a Bank : Lucky Stevens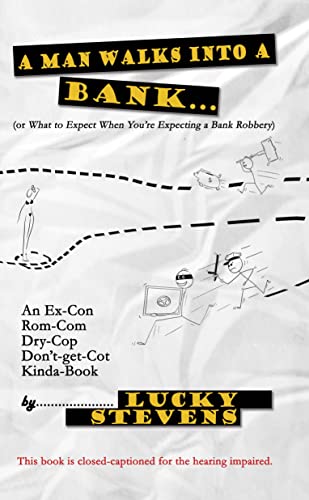 Can the last novel you read tick these boxes?
Entertaining
Annotated for your pleasure
Humorous
It was the literary equivalent of a well-prepared steak—or celery, if you're vegan
It was written by a humble man whose only goal in life is to bring joy to others
A Man Walks into a Bank offers all of these things, plus a lifetime of ecstatic joy and happiness. Guaranteed.*
Ellis Coldwater is a pretty easy-going bank robber. Wendy Larkin is a pretty woman—a little shy, a little nervous, and a little married. What happens when these two get together "on the job?" Whose recipe for living life will lead to the most happiness, the most laughter, and the least amount of jail time?
Our tale jumps in from page one as this novel adroitly rolls up its sleeve to expose the funny bone of crime, love, right, wrong, the pursuit of money, happiness, the vagaries of humanity that gives life meaning, and the dicey world of run-on sentences that somehow make perfect sense in the end.
If you enjoy Donald Westlake and/or P.G. Wodehouse, you will love A Man Walks into a Bank. If you enjoy their writing, even better.
Get the book that some of America is talking about. Available now wherever fine and the other kinds of books are sold. Pick up your copy today. You'll be glad you did.
"With colorful characters and a completely unpredictable plot, Stevens' tale draws you in, immersing you with clever twists and turns, and keeping you entertained all the way through with witty dialogue and some truly laugh-out-loud scenes"–Readers' Favorite
*This is not guaranteed
More Great Reads: