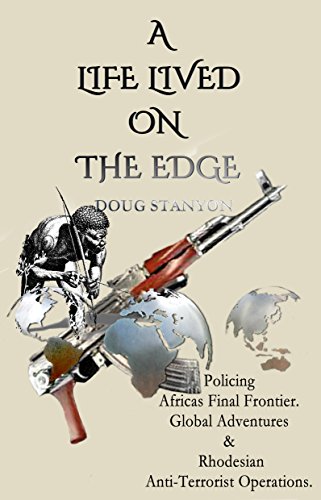 A Life Lived on the Edge : Doug Stanyon
A Life Lived on the Edge
A book containing 70 stories (386 pages) of the life and times of a former Member of the Rhodesian Police force.
The book is written in three parts.
The first covering his service in rural Rhodesia. Revealing incidents of witchcraft, poaching and the varied human characters located in rural areas. Plus the difficulties of bringing law and order to the final African frontier.
The second, covers a three years hiatus when he travelled the world, with experiences akin to James Michener's "The Drifters", living a life with an "anything goes" ethos, crossing six continents, always working on the fringes of the law. He worked in the desert of Australia and the jungles of New Guinea. As well as living in Europe during the free love and drug culture of the swinging sixties.
The last section covers his work as an intelligence operative in the Rhodesian war. He investigated and brought to trial the terrorist who fired the first angry shot, who was hanged.
In 30 stories he recalls with a pinch of humour being blown up by a Land Mine, mortared, shot at by his own side, working with captured and turned terrorists, saving a woman trampled by an elephant, capturing an armed terrorist, a near fatal aircraft crash and other extraordinary near death experiences.
The book is laced with maps, photographs, poetry and proverbs.
Refusing to serve the terrorists, he immigrated to Australia in 1980. After a successful career in the Commercial Security Industry, he now lives in quiet retirement.
More Great Reads: