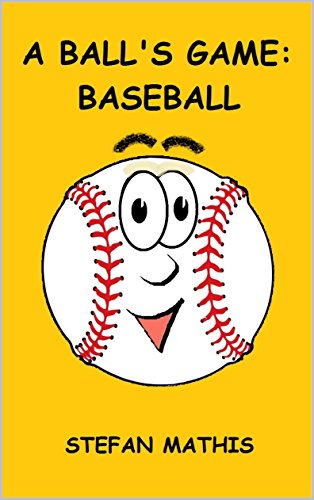 A Ball's Game: Baseball : Stefan Mathis
A Ball's Game: Baseball
This is the story of a baseball that comes to life at a major league stadium. Bennie the Talking Ball explains the game of baseball from his point of view. From the first pitch to the last out of the game Bennie shares fun baseball facts. And there's a post game Rock and Roll concert that may add to the laughter and hijinks of the story.
What happens when a talking baseball, rock and roll music, and a Major League baseball game come together. A day filled with laughter and mayhem. Join Bennie the "Talking Baseball" as he takes the reader thru the most unlikely game ever played. It's nine innings of Major league Baseball at its best.
Witty, and funny. Sure to be a hit with kids. Being short (64 pages) and easy to read will also keep their attention. Adults will love the heartwarming story line. But it's not all giggles, there are also a lot of baseball facts. Some of the things a reader will learn from this story are: 1) how/where Major League baseballs are made, 2) how to get a professional ball of your very own, and 3) what are the things a ball must go thru in the course of a game.
You need not be a baseball expert to enjoy this story. Bennie breaks down "The Grand Ole Game" in simple, easy to understand language. Available in print or ebook formats. Enjoy.
Book Links
Facebook
Twitter
Amazon Author Page
On Amazon
More Great Reads: