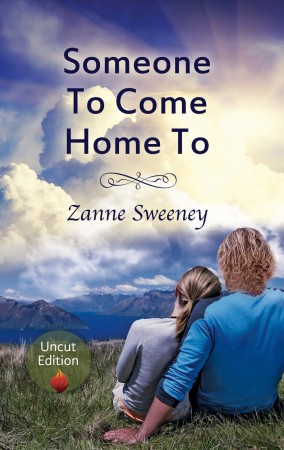 Someone To Come Home To : Zanne Sweeney
Someone To Come Home To (Uncut Edition)
A romance novel packed with suspense and intrigue.
Placed into Witness Protection, Kit Taylor, formerly Karen Sue Murphy, now a self -imposed loner, slowly pieces her shattered life back together in beautiful Steamboat Springs Colorado. Jess Ryan, a Firefighter, Smoke Jumper, and Explosive's Expert, just back from Afghanistan, is haunted with demons of his own. When they meet the attraction is undeniably.
''The guy was drop-dead gorgeous. His body commanded serious space. He had to be 6'4' easily. His shoulders were wide under his firefighters uniform and she could see his arms were muscled as they stretched the blue fabric tight around his bicep. Back east some men purposely wore smaller sized shirts to accent their muscles, but Kit knew, without a shadow of a doubt, this man did not play that game. He was perfectly sculpted and all male. She inadvertently wondered what he looked like out of his clothes. Kit had to slam her eyes shut to force that random thought away.'
However, the close bond Kit has formed with the DEA Agent that saved her life forces Kit to return the favor, despite the danger it places her in. The added stress of Jess' job as a Smoke Jumper and Explosives Expert, has Kit questioning his love for her. These separate and equally dangerous undertakings lead them into perilous situations that test their courage and ultimately their love for each other.
This romantic thriller is offered in two versions. The Uncut Edition contains adult content and is intended for mature readers. The Abridged Edition is a milder in content.
Book Links
Website
Facebook
Twitter
Goodreads
Amazon Author Page
On Amazon
More Great Reads: